Kitchen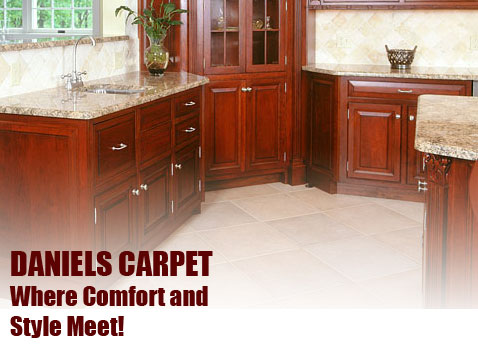 The All Important Kitchen!
Our lives revolve around the kitchen. We are there to prepare and eat all of our meals. The kids do their homework in the kitchen. When you go to a party, doesn't it seem like everyone always ends up in the kitchen?

Why not make your kitchen the way you want it? At Daniels, Suffolk County Wood Flooring, we have everything you need to make your kitchen the showplace it should be.

You can visit us every day of the week to look over our cabinets, countertops, and many kinds of flooring choices available to you.

We have been making customers happy since 1988 and plan to keep making them happy many years into the future offering our services in New York City and its five boroughs along with Nassau and Suffolk Counties.

Since we buy our supplies directly from the manufacturers, we can offer our customers the best selection and pricing around. We will price match for you too!

We invite you to explore our cabinets, countertops, wood flooring, tile, and linoleum to create the kitchen of your dreams. Whether you're building a new kitchen or upgrading an existing one, you'll find everything you need for kitchen cabinets, designs, finishes, and related kitchen products in Daniels Carpet.

Our fully licensed and insured experts are trained to give you the highest quality of service to ensure your satisfaction. We combine comfort and style with flexibility that will match your needs.


Bronx Carpet Sales, Brooklyn Vertical Blinds, Queens Home Carpet, Nassau County Carpet Installers, Suffolk County Wood Flooring - Danielcarpet.com has it all for the whole NYC Metropolitan area!
We love to speak to our customers so please feel free to contact us with any questions at:

Tel: (718) 441-9101
Daniels Carpet, Inc.
114-13 Jamaica Ave, Richmond Hill NY 11418
email: daniels_carpet@yahoo.com